Making the Tool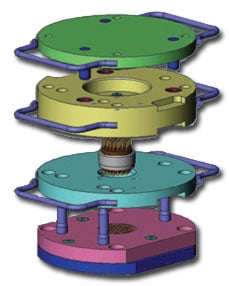 Fully equipped machine shop
Excellent experienced rubber mold makers
Ability to make close tolerance tools for flash-free parts
Hardened tool steel used for all molds and dies
Craftsmen know that a quality part is made from a quality tool. Through creative engineering expertise with advanced CAD/CAM engineering and CNC machining capabilities, coupled with the skills of conscientious mold makers, Pelmor® produces single- and multi-cavity tools and dies that meet industry's most exacting standards.
Our machine shop, under the able leadership of an experienced Process Engineer, includes modern machines, such as a computerized CNC machine, to make finely crafted extrusion dies, as well as intricately shaped molds capable of producing flash-free parts. Other equipment dedicated to this department includes vertical milling machines, engine lathes, tool grinders, surface grinders, an optical comparator, drill presses, bench grinders, and assorted jigs, fixtures, and accessories.
When the machine shop is not making new tools or dies for our customers, it is kept busy repairing and renovating customer-owned tools in order to keep the molding and trimming costs from becoming excessive. This is a part of our contribution to the partnership that exists between Pelmor® and our customers.